Let Me Know: Nova Interviewed
Let Me Know: Nova Interviewed
Award winner on achieving her dreams, Black Scottish identity, and what comes next...
The last few months for the Edinburgh based DJ, rapper and producer Nova, aka Shaheeda Sinckler, have been nothing short of exciting. Having recently been crowned as the youngest recipient of the SAY Award to date, and fighting off the likes of Erland Cooper, Cloth and The Ninth Wave who were also shortlisted for the award, the future looks bright for the Scottish artist.
Nova's award-winning album 'Re-Up' melds together deconstructed grime tropes with raw lyricism while exploring themes of identity through the prism of Glasgow after parties. With plans already in place for a follow-up, she's also set for a special performance at this year's SAMAs on Wednesday (November 18th).
We caught up with Nova virtually to chat about her recent successes and musical inspirations, her advice for females looking to break into the industry right now, and some of the diverse, upcoming talent within Scotland's rap scene.
- - -
- - -
First off, I know you're self-isolating at the moment due to Covid-19 and we wish you a very speedy recovery. How are you feeling?
I'm feeling good! I'm still not 100% but I'm getting better everyday - still unfortunately suffering from tiredness but feeling much more capable of doing things and getting on with life. Now having had the coronavirus, sticking to the rules is all the more imperative because I really don't want to catch it again!
And I'm feeling lil sad, I watched an episode of Insecure last night, they were at an outdoor rap concert, dancing and having so much fun, and it made me feel sad and nostalgic for when we used to be able to do such things.
Usually, a winner of a prestigious award would be flooded with live gigs I'm sure but that aspect is wiped out until it becomes more clear when we will be able to resume that activity - but I also really miss attending events, socialising and feeling like I belong to a group of people.
Who were some of your biggest musical inspirations growing up?
So, schools in Edinburgh have a half day on a Friday, so me and a group of mates would go to my pal Eve's mum's house and sit around smoking, listening to hip hop on YouTube - in terms of women we'd listen to Lil Kim, Queen Latifah and Soom T. I would listen to artists that my parents were into, I found 'Wu-Tang Forever' and the self-titled Aaliyah album on my dad's iTunes and my mum would listen to a lot of hip hop, Lauryn Hill, some reggae styles and neo-soul.
I attended these special festivals for under-18s in London's Victoria Park called Underage Festival which were super, super cool when I look back on them, circa 2008 I saw JME, MIA, Master Shortie and Professor Green at these festivals - I also listened to a few bands at this time, I saw the Mystery Jets at this festival but I also listened to the Arctic Monkeys, The Maccabees, Johnny Foreigner.
I even had an emo phase where I listened to bands like Dance Gavin Dance, Bring Me The Horizon and City and Colour, and I even referenced one of these bands on my 2019 mixtape 'Risin' Up' as did Princess Nokia on her 'A Girl Called Red' album - she was a massive source of inspiration for me when I first started writing music.
I got into grime fairly late on, being an age where I knew Wiley for 'Wearin My Rolex' and Dizzee Rascal for 'Dance Wiv Me', but when I did get into it I was deeply inspired by MCs like Shystie, Nolay and Roxxxane because they gave me the courage to say things that might be shocking or uncomfortable, but they're real and true.
I DJed the Fringe of Colour party last year during the Edinburgh Festival and to my surprise I saw Roxxxane cutting about the venue, when she told me that she was enjoying the vibe that was real moment for me!
- - -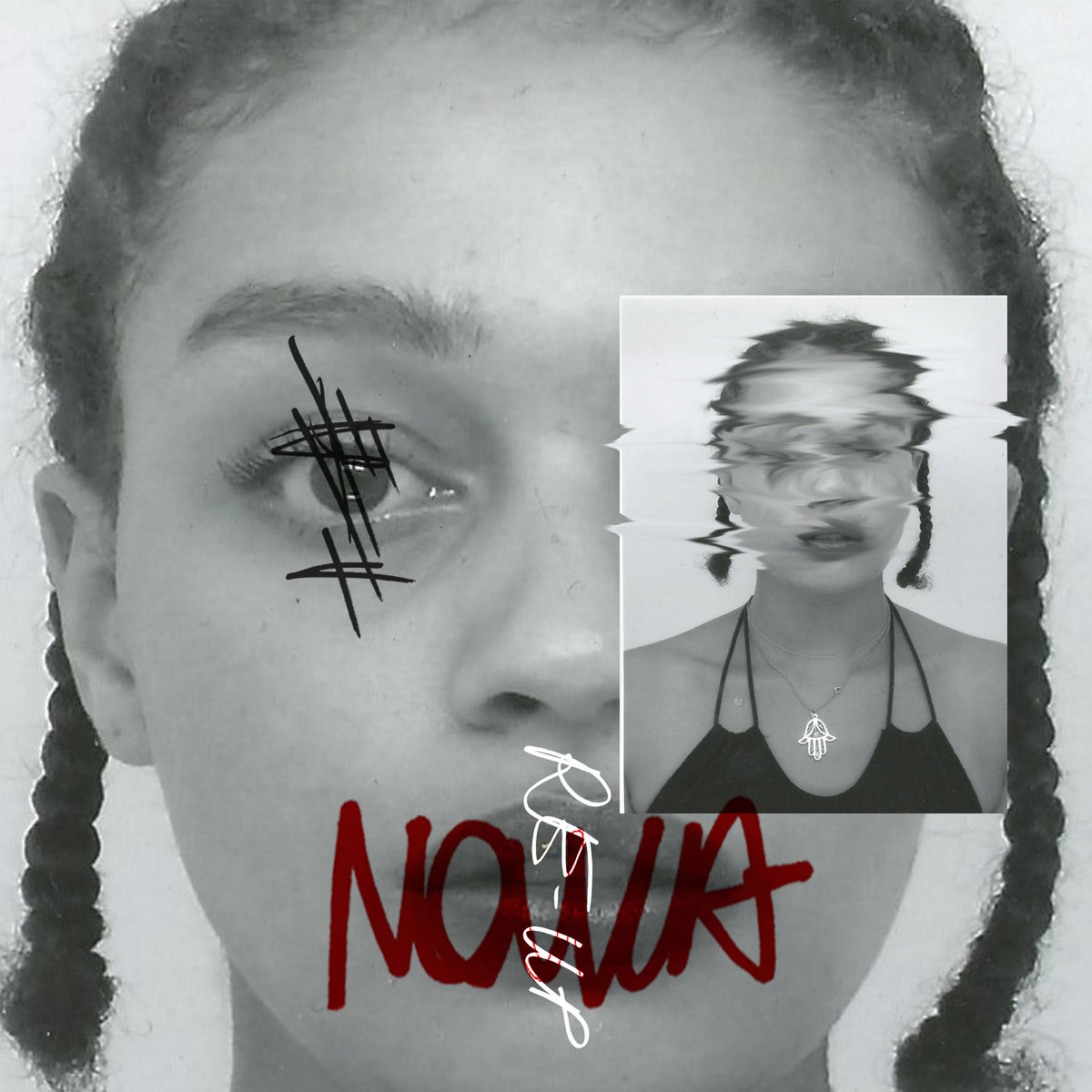 - - -
Has your versatility as a rapper, producer and DJ created more opportunities for you to pursue as an artist?
Yeah for sure! It means that the people who are into rap are watching you, the people who are into electronic music production are watching you and also the people who are into DJing are watching you, so if you play things right, you can have triple the audience! I think it was the grime scene in particular that inspired me to learn about and get involved in all three, leaders like Dizzee, Wiley and Novelist are all known for their beats and their bars and I know a few DJs in Glasgow that spit as well and do a bit of production on the side. Sometimes I wonder if it's too confusing for some people, to digest one person doing many different things, and that I might have to choose one in the end, because rap has definitely taken me the furthest, but at the end of the day I'm not going to forget how to do the other stuff so I may as well keep doing it when I have the time! I prefer working with other producers for my vocal work, but I stay doing production, studying it at college and I've done a couple of commissions for a dance company called V/DA. I last DJ-ed in July, live on Zoom, but I've been honing my music selection skills on my show The Litness Test on Clyde Built Radio.
How does it feel to have created the Scottish Album of the Year?
It feels amazing! Truly fantastic! It's one of my biggest achievements to date - I've already started making moves that I wasn't able to make before so watch out for some new content very soon! To hold this title is so affirming and the prize money is really going to ensure that I can do things the way I've really wanted to do them but haven't been able to afford. I'm talking videos and getting my music professionally mixed and mastered, to have myself looking and sounding right for my audience! It's great because I can now afford to pay people fairly and not have any uncomfortable situations, I definitely believe in paying creatives based on their quote and in the past, being a DIY artist, I had some money but just not enough. I'm proud of myself for getting this far with what I had before but I'm hoping that this is the beginning of the end of financial limitations in creating my art.
Like you do so well on 'Re-Up', how important is it for you to capture snapshots of modern life in your work?
Oh very important - I like to keep up with current affairs and trends - social media and smartphones have totally changed our lives, but I'm old enough to remember a time before it - I love songs about phones, '079 me', "got UK tings on my Whatsapp now like +44 on the code" etc - but in Re-Up I talk about things that are timeless like partying, smoking weed, unrequited romance and even having a crush on your dealer but I frame it in a way that's in the here and now. There are even trends in using certain words and talking about certain topics online and in songs that I like to stay up to date on and weave into my lyrics when I can. And then my record Back In The Day reflects on the past, when I was 16/17 circa 2013, so I also like to look back, similar to my lyric in Trees "rolling up trees, most of these kids don't remember CDs"!
You tackle a lot of political and societal issues on your latest release 'Status Quo'. What was the creative process behind the track?
The beat itself conveyed a certain punky Britishness, so it inspired me to draw on a song that I'd grown up listening to: 'Great Britain' by Nottingham rapper Scorzayzee. This was originally released around 2003 I think, but since Status Quo came out he re-released the song on vinyl this year, which was a wonderful coincidence - prior to its second release it was only available to listen to online via a live version on YouTube which was quite different from the official version.
This could be due to its controversy that it ended up being stifled because when it was released it caused quite a stir, being very critical of The Queen and the government - it was written and released in the era of the Iraq War, and Scorzayzee channelled his frustration into this track, his frustration at belonging to a country that was wreaking havoc elsewhere.
I have no doubt that Scorzayzee was inspired by current events to re-release 'Great Britain', just as I was to write 'Status Quo'. The more recent title of slowthai's album 'Nothing Great About Britain' reinforced a similar sentiment in more recent times, so I wanted to write my own one. 'Status Quo' is a piece of political satire, highlighting the inequality and segregation within Western society that is seemingly infinite. I finished writing it in lockdown, which gave me the opportunity to speak on the pandemic in the third and final verse. I ended up hearing a clip of it when I actually had COVID and I got pretty freaked out haha!
Do you feel that the Scottish rap scene has become more diverse over recent years?
Yeah for sure, I'd say Scotland as a whole has become more diverse over recent years. Of course, I can only speak from my experience and what I've seen and there could be other factors that are allowing people of colour to be more visible such as social media connecting us with each other and of course political movements that have gained traction recently such as the Black Lives Matter movement.
However, I think I can speak for a lot of Black Scottish people that I was fighting back tears when I saw how many people came out in support of Black people around the world's human rights during the protests, I'm even getting emotional talking about it now. Seeing how many people care in a place that you've always felt isolated from, at times made to feel like a second-class citizen...
There are still many problems surrounding racism in Scotland and glass ceilings, this can be illustrated by a video taken in a high school that made the rounds recently, showing a young woman being racially abused.
I know a Black Scottish woman who is just under 10 years my senior, and she's told me that back in the day she experienced racism and racial abuse from members of the Scottish hip-hop scene. It's disgusting to even think about, it's the highest form of cultural appropriation, to be almost masturbating over Black culture but have no respect for the people within reach that come from that culture.
I'm sure there are still people like that in the scene but I like to think that they have to hide in the shadows and keep their nonsense thoughts to themselves these days.
Which rising Scottish hip-hop artists should we look out for in the near future?
I've seen a boy called Chef (@this_is_chef) getting a lot of heat lately, he's a part of the Aberdeen mandem and has been getting some radio play and video features on the BBC lately so you should check him out. Cling (@c.l.i.n.g), an Edinburgh resident, has just been nominated for the Best Hip Hop Category for the Scottish Alternative Music Awards - the winner is decided by public vote, so I would recommend checking out all the nominated artists and getting involved.
We achieved a 50/50 gender split in this category this year which is great (!!) with the other nominees being India Rose (@indiaros3), Lotos (@lotos_music) and Louis Seivwright (@louis_seivwright). Also, for the more R&B side of things I'd definitely recommend $am Brodie and Nikhita (@__nikhita) for tunes that you'll want to rinse and repeat.
- - -
- - -
You were invited to be a nominator for the Best Hip-Hop category at the Scottish Alternative Music Awards this year. What can we expect from your performance at the ceremony later this month?
Yeah it was great being involved in the Scottish Alternative Music Awards this year compared to last year when I was a nominee for the category! This year I got dressed up in a look inspired by Lily Allen's 'Not Fair' video, headed to the Up2Stndrd studio, and performed my latest single 'No Way' which was released in September on Bandcamp as part of a various artists compilation by Volen's Chorus in aid of Black Lives Matter.
I also performed an unreleased song called 'GTG'. It was great going back to the studio and kicking it (for the first time since lockdown) with my honorary brother Mobolagi Agoro who works there - Up2Stndrd are the biggest content creators in rap in Scotland and Mobo - as his friends call him - has been committed to the culture for as long as I've known him.
It was sick as well, already being in the studio, I jumped straight into a session after recording the SAMA performance and getting a few snaps taken for Forij's (@forij.gla) Black History Month series which leads onto the next question…
What's next for Nova? Do you have another album in the works?
So, in my studio session following the SAMA performance, I was working with producer $1000 Wallet (@1000dollarwallet). He produced track one off my now award-winning album 'Re-Up' and we're currently working on a project together - just us two. I'm super excited on how it's going to be received, especially considering I've received such accolades for my debut album.
We've been leaning towards an EP rather than an LP - he's been sending me beats and I've been putting mostly improvised vocals on demos and sending them back to him. We're just gonna keep making tracks and choose our favourites for the project so no release date on that yet.
I've got my unreleased single 'GTG' which will be coming next along with a video I'm making in collaboration with Abi Ponce Hardy (@abiponcehardy). It's still very much a work in progress as I've sewn my own costume for it: doing something creative for the first time can be quite time consuming, using trial and error to get it right. The song as a whole has been more of a long term project as I made the beat, recorded and mixed my vocals on this one completely myself so there's been a lot of learning involved but it's gonna be killer when it drops.
I'm also in the market for dropping a couple of features on some tracks, I've worked with a couple of local artists recently but unsure when they're coming out as well, plus I'm gonna start putting feelers for featuring artists on my own music... so I've got stuff coming for sure, it's just about making it to the finish line and... I might be putting something out sooner than you think, I'm just waiting on the results of my second COVID test to make sure I'm safe to be working with other people ...
Finally, what's the best piece of advice you'd give to any young female rappers looking to make a name for themselves in the music industry today?
I would say don't be afraid to be yourself and don't be afraid of what other people are going to think or say, you need to keep doing you regardless. Even if your first track ain't popping, and your second ain't and your third, you gotta keep going if you really want this - even if you aren't at the stage you want to be, you learn by doing so you gotta keep doing it!
I had no idea that I would end up winning Scottish Album of the Year but I was working and doing my thing, trying to maintain a high profile and always trying to think of the next thing, and others can have this experience too if you work hard and stay determined.
Don't let no tired man whisper in your ear, convincing you that you ain't good enough, or that you ain't as good as the next man or that people only pay attention to you cause you got sex appeal - just let them eat dust as you fly off into the sunset.
You deserve this and you got this.
- - -
As one more bonus: we're able to showcase Nova's exhilirating new video for '24'...
She explains:
I knew I wanted to do something as the winner of the Scottish Album of the Year and I knew I wanted to do it soon.
I'd met the director Drew a couple of weeks before I found out I'd won the award - '24' is a track I'd been sitting on for a while so we planned to work together on a video for that but it was a very loose idea at that stage. The idea came back to me and it was a bit of a whirlwind but my manager and I managed to get an absolute dream team together within record time and the shoot was so great - I wanted to do it again and again once it was over.
The track starts with the lyrics "24 hours in a day, I'm 24" and my 25th birthday is on November 15th so I wanted to drop the video around that time which is why we had to do it with a really quick turnaround. I'm the youngest winner of the award so I wanted to really celebrate that.
With Drew Barnes on direction, video work and editing; Up2Stndrd on sound, Tamara Toots Turnbull on styling, Molly Sheridan on make up and Emma Diamond on hair, I'm so happy with the finished result and I can't wait to see what everybody else thinks!
- - -
Nova will be performing at the SAMA Awards on November 18th - tune in HERE.
Words: Jamie Wilde
Join us on the ad-free creative social network Vero, as we get under the skin of global cultural happenings. Follow Clash Magazine as we skip merrily between clubs, concerts, interviews and photo shoots. Get backstage sneak peeks, exclusive content and access to Clash Live events and a true view into our world as the fun and games unfold.