From Staten Island To The World: The Rise Of CJ
From Staten Island To The World: The Rise Of CJ
'Whoopty' hitmaker is gate-crashing the charts...
"Whoopty / B*tch, I'm outside it's a movie / Blue cheese / I swear I'm addicted to blue cheese / I gotta stick to this paper-like loose leaf" – the infectious hook that without a doubt took over what's been referred to as a "terrordome" of a year!
Representing Staten Island, a bustling borough tucked away in New York City is CJ, a name that became more familiar amidst the chaotic summer of 2020. Posing as the future of Stateside rap, his all-round swagger, grit, and explosive style caught the eyes of many across the globe.
Growing up in a place where only the Wu-Tang Clan have managed to champion as their own, was CJ, his younger sister and single mother; having done a good job keeping him out the streets, the budding emcee was first introduced to music with an assortment of old-school R&B classics before stumbling across both MTV and BET where he became acquitted with rap veterans such as Jay-Z and 50 Cent.
Like many rappers when starting out, CJ began to explore the deep depths of YouTube and in turn gathered a variety of instrumentals that he would then take to an array of studios across the city and began putting pen to paper. Following in the steps of A Boogie Wit Da Hoodie, 16-year-old CJ took a more melodic approach and delivered tracks like 'On Me' as well as his remix to Gunna's track 'Toast Up' and slowly started garnering attention online.
Forward on to what's been an unpredictable and challenging year for many, the Staten-native emerged from out the blue with his viral hit entitled 'Whoopty' which is currently sat with over 98 million plays on YouTube alone.
Delivering an energy-driven and infectious tune that would blow our lockdown blues away, his unapologetic approach, punching flow and haunting pen took control of the skittering drill instrumental that laid beneath. Written entirely throughout isolation, little did he know that this would be his breakthrough track and there would soon be a line of labels queuing outside his door waiting to snatch him up!
Now signed to Warner Records with more music on the way, Clash got the opportunity to catch up with up the promising force over the phone - tap in below to see what he had to say!
- - -
- - -
2020 hasn't been easy for many of us! How have you found this year?
The pandemic has been a crazy ride, it's a crazy situation! I feel like it's a blessing in disguise because my record came out during this time and we've been making the most of it.
How have you found it creatively? I know quite a few artists said that at the start it took a toll on their creativity – were you able to stay creative throughout it all?
I've just been working on my craft! I've been trying to record music in the studio and really just stay active.
For people who aren't aware of who you are, could you talk us through your upbringing in Staten Island and how you were introduced to music?
I was born and raised in Staten Island in New York, there aren't too many big music influences that have come out of there – it's been 25-30 years since the Wu-Tang Clan! I've always listened to music, I've been a fan of hip-hop since I was a kid and I decided that one day that I wanted to pursue a career within music.
Growing up, were there any artists in particular that you used to look up to?
Yeah! I grew up around the 2000's era, so people like 50 Cent, Lil Wayne and Jay-Z.
What was the turning point in which you thought you wanted to take music to the next level?
When I was 16 or 17, I started getting better and better at writing music, I wanted to change the direction so yeah, I took music more seriously! New York is known for being one of the go-to hubs for music, a lot of people all over the world at some point aspire to go over there.
- - -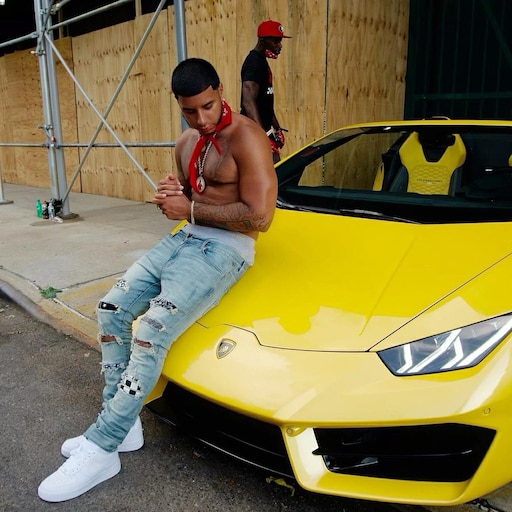 - - -
What is it like breaking through as an artist in such a prominent place?
To my knowledge you have been doing music for a quite a while on SoundCloud and stuff! SoundCloud is a big platform for underground artists and a lot of the kids who can't afford Apple Music or Spotify, that's the platform that they use. Before my single came about, I used to release all of my records on there and a lot of people started tuning in, that's why I used it!
The Brooklyn and London drill scenes have been taking over this year. What is it about drill that made you want to hop on a beat like that with 'Whoopty'?
Everything that was going in New York at the time, drill has become such a huge scene over here. May he rest in peace, but Pop Smoke had such a huge influence on the movement.
I thought it was about time I hopped on a drill instrumental and made something happen – that was my first drill beat that I had ever recorded on! What is it about drill though that you like? The energy perhaps? Yeah, for sure! I like how it can be a club banger, you can dance to it and have a little bop to it! I just tried to have fun with it!
How did 'Whoopty' come about?
It has quickly become a global hit and it was something we all needed this year to help lift our spirits! I was quarantining for a few months and there wasn't much to do, a lot of the studio's weren't open at the time.
The summer came about, and we were missing that New York typa energy and sound, I felt like I could bring something to the table and bring the hype back! I was listening to the beat in the studio and I said, "This might be the one!" (laughs) 
Did you ever anticipate it going as big as it did?
Erm! When I heard it, I felt like it was going to do something, but I definitely didn't think that it would blow up the way it did. You've gained a global platform in such a short space of time.
- - -
- - -
How have you been dealing with that? Do you think it brings pressure for your next single knowing how big 'Whoopty' is?
Nah! I've been working in the studio; I don't want to make it seem like I am chasing the next hit I just want to have fun with it and keep creating music! I want to stay consistent and keep the fans happy, you know?
We have obviously only seen a small snippet of your sound, and how far you can go sonically. Do you see yourself branching out as time goes by into various other sub-genres? 
Yeah, for sure! I'm working on my music now; I don't want to box myself into being just a Drill artist because that's not what I am! I want to keep creating versatile music and switch it up with every chance that I can get!
What is your creative process like? Do you prefer to work in certain settings, or get something in particular laid down first or?
I will go through a bunce of beats, if there is one or two that really catch my attention, I will go with the flow pretty much! I will go in the booth and lay down whatever comes to mind.
Are you familiar with any UK artists or producers?
I know AXL, he's huge out there! He reached out to me so hopefully soon we will get something in the works and create some magic! That's exciting!
No artists then? No UK link ups pending?
Not right now! I have definitely got to do my homework on some of these UK artists! (laughs) I'm open to working with them though!
What can we expect to see from you in 2021?
More music and videos for my fans! I've got the spotlight on me right now, so I am going to stay consistent and keep the ball rolling!
- - -
- - -
Words: Elle Evans
Join us on the ad-free creative social network Vero, as we get under the skin of global cultural happenings. Follow Clash Magazine as we skip merrily between clubs, concerts, interviews and photo shoots. Get backstage sneak peeks, exclusive content and access to Clash Live events and a true view into our world as the fun and games unfold.